Official bio
GEORGIA SAPOUNAS
Georgia Sapounas is an artist, creator, traveller, speaker and athlete turned sports marketer. She pushes the limits of what's possible in art, sport, technology and life. She's a digital marketing executive in the sports world (activating several Olympic Games before moving to the NBA). Prior to her digital sports career, she was an athlete who spent almost a decade on the Canadian National Team where she became a 4x National Champion and World Bronze Medallist in Synchronized Skating. She's also an international speaker who's travelled the world but why stop there? Her next endeavour is to help others reach their potential and give their gifts to the world.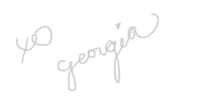 Loves to create
ARTIST, CREATOR
One definition of creativity is "characterized by sophisticated bending of the rules or conventions" and I'm about that life. The first thing I saved up for and bought at six years old was a camera. I even did an extra major in Art & Art History in University for fun (ponders definition of fun lol). I've always loved painting, print, drawing, design, photography, and anything creative.
Gets lost in wanderlust
TRAVELLER
Let's spread joy, live passionately and take the road less travelled. We gotta live a little while we can.
Join me on my travels as I explore new places, experience different cultures, and grow. I've travelled solo in Asia, South America, North America, Europe and Australia / Oceania and have made incredible friends in countries all over the world.